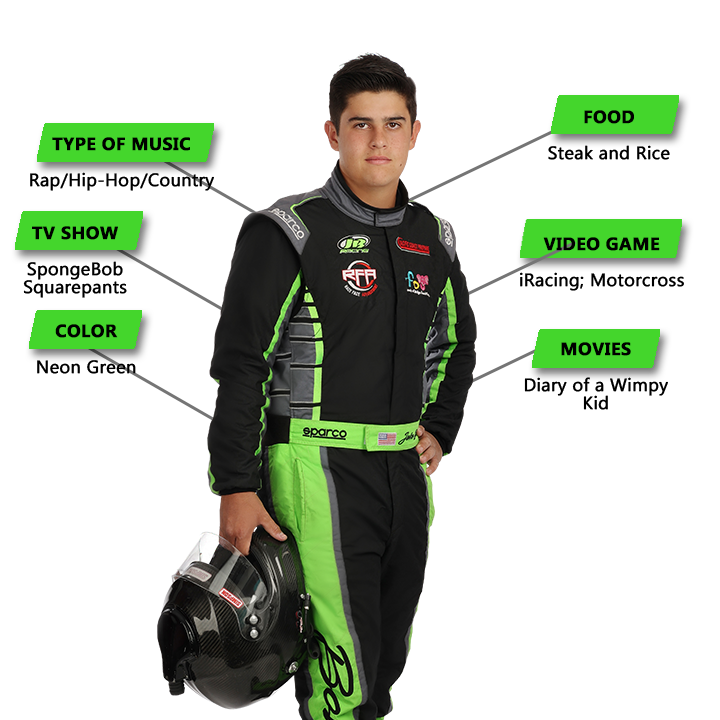 AGE: 15
BIRTHDAY: April 22, 2007
HOMETOWN: Huntington Beach, California
CAR SERIES:  Pro-Late Model Series, ARCA Menards West Series, Legend Cars
Jake Bollman is a 16-year-old racer who found his passion for driving at the young age of 3 when he was given a go-kart for his birthday.
In 2016, he started racing competitively in the Lucas Oil Off Road Racing Series in the J-1 and J-2 Kart classes and had several wins in both classes. He won the 2018 championship in the J-1 class.
That same year, Jake began racing a Bandolero and quickly won the championship at Orange Show Speedway. In 2019, Jake raced in the 51-FIFTY Jr. Late Model Series at Madera Speedway for Naake-Klauer Motorsports and finished 4th in his Rookie season.
In addition, Jake competed in the INEX Young Lions Series where he won multiple races and finished 10th in the Asphalt Series and 2nd in the Road Course national standings.
In 2020 Jake returned to the Jr Late Model Series at Madera and also compete for a National Championship in the INEX Legend Car Series.
In 2022 Jake raced for Tennessee-based Rackley W.A.R Racing in the Pro Late Model at Nashville Fairgrounds Speedway with several top finishes. He also competed in a variety of other events in late models and legend cars.
2023 has been a breakout year for Jake, as he had the opportunity to compete in his first ever ARCA Menards West Series event, where he finished seventh. He also has two wins so far in the Cook Out Summer Shootout, the top series for Legend Cars at Charlotte Motor Speedway.  
JOIN JAKE ON SOCIAL MEDIA
 I have a passion for racing that has been evolving since I was a little boy. My motivation to succeed is unapparelled against my opponents. It is my mission to become the best racer in my league and eventually excel on to becoming a professional NASCAR driver. As a driver, I always work hard to win every race but see every loss as an opportunity to learn from my mistakes. Not only am I passionate about this sport, but I am skilled and detail oriented; I know what it takes to win. I am very thankful to have support from my family to help me achieve my goals.